Spyderco Review
Spyderco Review
Spyderco Matriarch 5 Review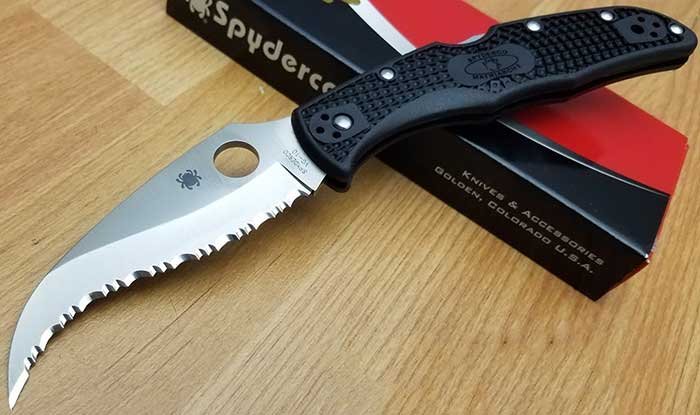 The Matriarch 2 is another in Spyderco's line of self defense knives. Similar in size and shape to the Spyderco Civilian, this knife features a few key changes and improvements.
With a unique blade shape, serrated edge, and curved ergonomic handle, this knife stands out as different from a standard carry knife and for good reason.
Spyderco put a lot of effort into making it clear this was a self defense knife.
For the design, quality materials and additional features, we give this knife 4.5 out of 5 stars.
The Spyderco Manbug is a unique entry in the Spyderco lineup designed by Sal Glesser himself. Very small and light, the knife is designed to feel like it is barely there, yet is nimble enough for a variety of cutting tasks.
Small enough to fit on a keychain, the knife has a quality blade and handle that makes it a great choice for emergency use. This folder is surprisingly durable and strong despite the shorter length and extremely light weight, making the knife behave like a much larger knife than it is.
For the size, weight, and design we give this knife 4 out of 5 stars.
Spyderco Efficient Review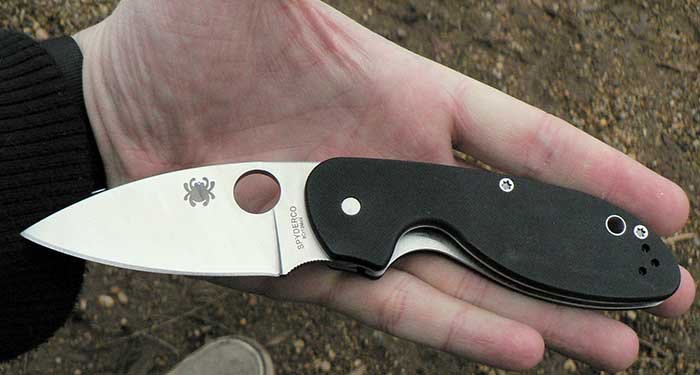 Most knife owners will likely carry a good folding knife at some point for a variety of everyday tasks. Spyderco has made another standout entry with the Efficient.
This knife features the unique look that a lot of Spyderco knives have and also has quality construction. The knife itself is made of high quality materials and is extremely light.
The overall size of the knife is smaller than other knives in the category, but the make of the Spyderco Efficient allows it to function well as an everyday carry knife.
For its construction, design, and function we give this knife 4.5 out of 5 stars.
Spyderco Centofante 3 Review
The Spyderco Centofante 3 is not your typical design from Spyderco. It's the third blade in the Centofante line and has a particularly unique look.
It doesn't have a large choil at the base of the blade like other Spyderco knives, but the large finger ring is at the top of the back end of the blade is certainly noticeable. The knife itself is quality construction and is extremely sharp from first use.
With the unique design it functions well as a thin and versatile everyday carry knife. For it's design, construction, and versatility we give this knife 4.5 out of 5 stars.

The Spyderco Native 5, is one of the latest offerings from Spyderco in their Native line. The Native 5 is offered in a few different models, with the differences being the handle material and blade styles.
Spyderco is one of the most respected knife companies today, so I expected the Native 5 to not disappoint. While it's not perfect, and there were a few flaws, the Spyderco Native 5 is a solid knife.