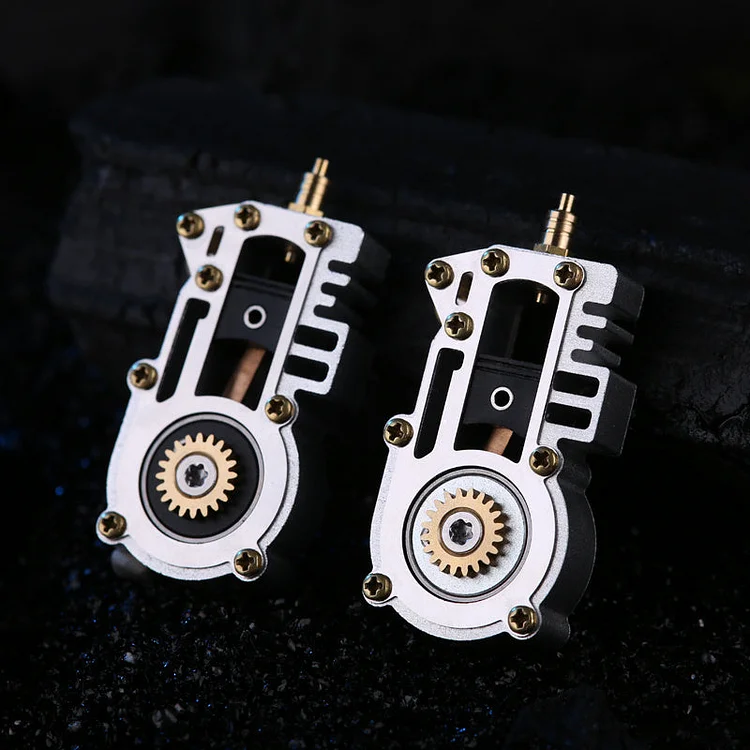 Product Name: Two Stroke Engine Fidget Spinner
Product Type: Fidget Toy
Material: aluminum alloy
Packaging: gift box
Weight: 35g
Product size: refer to the picture
Product list: 1 fidget spinner
Two Stroke Engine Fidget Spinner
The main material of the product is sandblasted and oxidized aluminum alloy, the gear and spark plug are made of brass, the connecting rod is made of tin bronze, and the baffles on both sides are electropolished stainless steel. Made by CNC precision machining for better feel and durability. The appearance simulates a two-stroke engine, and the working principle of the fidget spinner follows the engine workflow.
Product play
How to play 1: There is a connecting rod above the product, and the connecting rod is manually cranked to make the engine work.
How to play 2: Press the bearing part of the fidget spinner with your hand, and then force it outward to rotate it.
Relieve stress
Great toy for irritability, anxiety, concentration, ADHD, autism, quitting bad habits, with picky toys you will be able to curb unwanted habits like nail biting and smoking. Your boring time will pass quickly and you will be happy when you are alone. Many people have successfully broken bad habits with this fun and cool fidget toy.
Fidget toys for any occasion
These relaxing sound coins are pocket sized and lightweight. This way you can easily keep these delicate toys in your pocket. You can play anywhere in the office, home, church, subway, station, etc.
Notice
1. Pictures are displayed differently on different monitors. The pictures are for reference only, the actual product shall prevail.
2. The size of the product is measured by hand, there is a certain error, please understand.
3. If you have any questions about this product, please contact us and we will answer it for you.
4. If you have purchased the product, we will ship it for you as soon as possible.
5. The quantity of this product is limited, if you like it, please buy it as soon as possible!